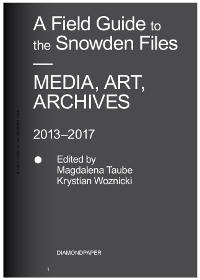 A Field Guide to the Snowden Files. Media, Arts, Archives 2013-2017 – Ed. Magdalena Taube and Krystian Woznicki (Diamondpaper 2017)
This is the first book to critically engage with artists responding to the NSA-files leaked by whistleblower Edward Snowden. Considering the most relevant contexts in which the files have 'surfaced' (including media and archives), it reflects on how artists are deploying the files as raw material. Their different approaches share the common goal of rendering the documents accessible – to both present and future audiences. Reaching out to the general public, they have also tasked themselves with reflecting on the complex political, social and technological realities that the Snowden documents have helped to uncover. Foregrounded are artists who test the files as material and, by creating works, transform them into commons.
The book has been conceived in the context of Signals, a project by Berliner Gazette.
Surveillance, Privacy and Security. Citizens' Perspectives – Edited by Michael Friedewald, J. Peter Burgess, Johann Čas, Walter Peissl and Rocco Bellanova (Taylor & Francis / Routledge, march 2017)
Lees online of download het boek van de website
This book examines the relationship between privacy, surveillance and security, and the alleged privacy–security trade-off, focusing on the citizen's perspective.
Recent revelations of mass surveillance programmes clearly demonstrate the ever-increasing capabilities of surveillance technologies. The lack of serious reactions to these activities shows that the political will to implement them appears to be an unbroken trend. The resulting move into a surveillance society is, however, contested for many reasons. Are the resulting infringements of privacy and other human rights compatible with democratic societies? Is security necessarily depending on surveillance? Are there alternative ways to frame security? Is it possible to gain in security by giving up civil liberties, or is it even necessary to do so, and do citizens adopt this trade-off? This book contributes to a better and deeper understanding of the relation between privacy, surveillance and security, comprising in-depth investigations and studies of the common narrative that more security can only come at the expense of sacrifice of privacy. The book combines theoretical research with a wide range of empirical studies focusing on the citizen's perspective. It presents empirical research exploring factors and criteria relevant for the assessment of surveillance technologies. The book also deals with the governance of surveillance technologies. New approaches and instruments for the regulation of security technologies and measures are presented, and recommendations for security policies in line with ethics and fundamental rights are discussed.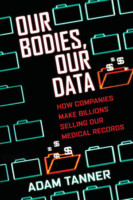 Adam Tanner: Our Bodies, Our Data. How Companies Make Billions Selling Our Medical Records (Beacon Press, 2017)
Hidden to consumers, patient medical data has become a multibillion-dollar worldwide trade industry between our health-care providers, drug companies, and a complex web of middlemen. This great medical-data bazaar sells copies of the prescription you recently filled, your hospital records, insurance claims, blood-test results, and more, stripped of your name but possibly with identifiers such as year of birth, gender, and doctor. As computing grows ever more sophisticated, patient dossiers become increasingly vulnerable to reidentification and the possibility of being targeted by identity thieves or hackers.
Paradoxically, in the evolution of medical data, the instinct for profit has outstripped patient needs. This book tells the human, behind-the-scenes story of how such a system evolved internationally. This is both a story about medicine and medical practice, and about big business and maximizing profits, and the places these meet, places most patients would like to believe are off-limits. Our Bodies, Our Data seeks to spark debate on how we can best balance the promise big data offers to advance medicine and improve lives while preserving the rights and interests of every patient. We, the public, deserve a say in this discussion. After all, it's our data.
— interview met Adam Tanner bij Passscode
+++++  2016  +++++
Wolfie Christl and Sarah Spiekermann: Networks of Control. A Report on Corporate Surveillance, Digital Tracking, Big Data & Privacy
In this report, Wolfie Christl and Sarah Spiekermann explain how a vast number of companies have started to engage in constant surveillance of the population. Without peoples' knowledge a network of global players is constantly tracking, profiling, categorizing, rating and affecting the lives of billions – across platforms, devices and life contexts. While special interest groups have been aware of the corporate use of personal data for a while now, the full degree and scale of personal data collection, use and – in particular – abuse has not been scrutinized closely enough. This gap is closed with this book.
Read more or go directly to the free download (pdf)
Tijmen Schep: Design My Privacy. 8 Principles for Better Privacy Design (BIS Publishers, 2016)
How can we protect our privacy in this digital era? Because of the emerging of 'The internet of things' this question becomes more and more relevant to designers. Technology becomes part of our daily used products. Watches, clothing, cars, houses are becoming 'smart', all being connected to the 'cloud'. This book gives you guidance on how to design for privacy.
This book is written to encourage designers to think about and to design for privacy issues. The technology behind the smart products and systems are so complex, that for the consumer it is difficult to understand what the consequences are for everyday life. Designers have to start thinking about transparency and accessibility in the design of privacy-sensitive products and services. This book offers the designer guidance, in the form of eight design principles, that help with designing products and services.
Laura Poitras: Astro Noise. A Survival Guide for Living Under Total Surveillance (Whitney Museum of American Art, 2016)
For this volume, filmmaker, artist, and journalist Laura Poitras has invited authors ranging from artists and novelists to technologists and academics to respond to the modern-day state of mass surveillance. Some contributors worked directly with Poitras and the archive of documents leaked by Snowden; others contributed fictional reinterpretations of spycraft. The result is a "how-to" guide for living in a society that collects extraordinary amounts of information on individuals. Questioning the role of surveillance and advocating for collective privacy are central tennets for Poitras, who has long engaged with and supported free-software technologists.
Contributions by Ai Weiwei, Jacob Appelbaum, Lakhdar Boumediene, Kate Crawford, Alex Danchev, Cory Doctorow, Dave Eggers, Jill Magid, Trevor Paglen, Edward Snowden and Hito Steyerl.
+++++  2015  +++++

Bernard E. Harcourt: Exposed. Desire and Disobedience in the Digital Age (Harvard University Press, 2015)
Bernard Harcourt guides us through our new digital landscape, one that makes it so easy for others to monitor, profile, and shape our every desire. We are building what he calls the expository society—a platform for unprecedented levels of exhibition, watching, and influence that is reconfiguring our political relations and reshaping our notions of what it means to be an individual.
We are not scandalized by this. To the contrary: we crave exposure and knowingly surrender our privacy and anonymity in order to tap into social networks and consumer convenience—or we give in ambivalently, despite our reservations. But we have arrived at a moment of reckoning. If we do not wish to be trapped in a steel mesh of wireless digits, we have a responsibility to do whatever we can to resist. Disobedience to a regime that relies on massive data mining can take many forms, from aggressively encrypting personal information to leaking government secrets, but all will require conviction and courage.
Review – Why Do We Expose Ourselves? (Astra Taylor / The Intercept)
Review – Bernard Harcourt's Study on Our Surveillance State, 'Exposed', Is a Call for Action (Danilo Bortoli / PopMatters)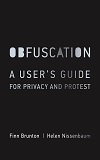 Finn Brunton en Helen Nissenbaum: Obfuscation. A User's Guide for Privacy and Protest (MIT Press 2015)
In haar nieuwe boek Obfuscation beschrijft de filosofe Helen Nissenbaum samen met Finn Brunton verschillende manieren om in verzet te komen tegen datahongerige organisaties. Obfuscation betekent zoveel als verwarring zaaien. Brunton en Nissenbaum zien dat als een mogelijk antwoord op de alomtegenwoordige surveillance van burgers en consumenten door overheden en bedrijven. "Als je in de moderne wereld wilt leven zonder onderwerp te zijn van indringende digitale surveillance, dan is verwarring zaaien een manier om zand in de raderen te strooien, tijd te kopen en op te gaan in een kluwen van signalen."
Maurits Marijn vond in een recensie voor de Correspondent "Obfuscation een van de beste boeken over privacy en surveillance die ik de afgelopen tijd las. Het vindt een ongewone balans tussen filosofische diepgang en aansprekende, concrete voorbeelden. Het is deels analyse, deels pamflet. Het is vlot geschreven én snel gelezen."
We konden het zelf niet beter gezegd hebben.
Bruce Schneier: Data and Goliath. The Hidden Battles to Collect Your Data and Control Your World. W.W. Norton & Company, 2015
You are under surveillance right now. Your cell phone provider tracks your location and knows who's with you. Your online and in-store purchasing patterns are recorded, and reveal if you're unemployed, sick, or pregnant. Your e-mails and texts expose your intimate and casual friends. Google knows what you're thinking because it saves your private searches. Facebook can determine your sexual orientation without you ever mentioning it.
The powers that surveil us do more than simply store this information. Corporations use surveillance to manipulate not only the news articles and advertisements we each see, but also the prices we're offered. Governments use surveillance to discriminate, censor, chill free speech, and put people in danger worldwide. And both sides share this information with each other or, even worse, lose it to cybercriminals in huge data breaches.
Much of this is voluntary: we cooperate with corporate surveillance because it promises us convenience, and we submit to government surveillance because it promises us protection. The result is a mass surveillance society of our own making. But have we given up more than we've gained? In Data and Goliath, security expert Bruce Schneier offers another path, one that values both security and privacy. He shows us exactly what we can do to reform our government surveillance programs and shake up surveillance-based business models, while also providing tips for you to protect your privacy every day. You'll never look at your phone, your computer, your credit cards, or even your car in the same way again.
Glenn Greenwald: No Place to Hide: Edward Snowden, the NSA, and the U.S. Surveillance State (Penguin Publ. 2015)
The lessons of courage and integrity contained within the pages of No Place to Hide, as exemplified by Edward Snowden, Greenwald as well as the journalists, editors and publishers who supported their efforts in shining a light into the darkest corners of the most powerful government in the world, make this a must read for any truly privacy-conscious individual. The book reads almost like a thriller, but contains a morality tale about the personal courage required of Snowden and Greenwald and his colleagues to expose government wrongdoing while risking their own lives and liberties in doing so. It is the tale that started this debate. This is easily one of the best book on privacy there is.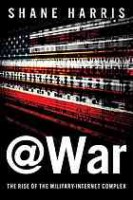 Shane Harris: @War. The Rise of the Military-Internet Complex (Mariner Books, 2015)
This book takes you deep inside the government's surveillance and cyber operations to give an unsparing look at what the NSA and other agencies are really doing with all of our data. In the age of abstract Snowden documents, @War actually introduces you to the people running America's electronic spying machine, and offers invaluable insights into how their ambition and turf battles impact our financial security, our privacy, and our freedom.
Marc Goodman: Future Crimes: Everything Is Connected, Everyone Is Vulnerable and What We Can Do About It (Doubleday, 2015 – paperback: Anchor, 2016)
Hackers die je medisch dossier veranderen, zodat je de verkeerde bloedtransfusie krijgt. Een veiligheidsexpert die, tijdens de vlucht, via zijn telefoon de boordcomputer manipuleert. Criminelen die je bankrekening plunderen terwijl je bankafschriften onveranderd blijven. Terroristische organisaties die cybercrime gebruiken om hun aanslagen te financieren. Dat, en nog veel meer digitale ellende, staat ons volgens Marc Goodman te wachten. Future Crimes beschrijft de risico's van een wereld waarin alles met internet verbonden is. Het boek staat bol van concrete voorbeelden van hacks en de gevaren van het Internet of Things, waarbij ook je koelkast en haardroger online gaan. De online economie en maatschappij staan open voor iedereen, maar vooral voor criminelen. En de politie hobbelt achter de feiten aan.
– interview bij NRC
– TED Talk
Frank Pasquale: The Black Box Society. The Secret Algorithms that Control Money and Information (Harvard University Press, 2015)
Every day, corporations are connecting the dots about our personal behavior—silently scrutinizing clues left behind by our work habits and Internet use. The data compiled and portraits created are incredibly detailed, to the point of being invasive. But who connects the dots about what firms are doing with this information? The Black Box Society argues that we all need to be able to do so—and to set limits on how big data affects our lives.
Frank Pasquale exposes how powerful interests abuse secrecy for profit and explains ways to rein them in. Demanding transparency is only the first step. An intelligible society would assure that key decisions of its most important firms are fair, nondiscriminatory, and open to criticism. Silicon Valley and Wall Street need to accept as much accountability as they impose on others.
Kirstie Ball, Ana Canhoto, Elizabeth Daniel, Sally Dibb, Maureen Meadows and Keith Spiller: The Private Security State? Surveillance, Consumer Data and the War on Terror, CBS Press, Frederiksberg, 2015.
The last decade has witnessed the emergence of a surveillance-industrial complex as securitised data about customers begins to flow between the private sector and government. Through detailed empirical analysis The Private Security State? questions how private sector organizations achieve compliance with demands for customer data. Whilst others have argued that diffused security arrangements de-politicises it, this book shows that national security becomes re-politicised as it re-surfaces in the politics of production within the business enterprise.
Review bij Surveillance Studies
Michael Seemann: Digital Tailspin: Ten Rules for the Internet After Snowden (Network Notebooks 09, Institute of Network Cultures 2015).
Privacy, copyright, classified documents and state secrets, but also spontaneous network phenomena like flash mobs and hashtag revolutions, reveal one thing – we lost control over the digital world. We experience a digital tailspin, or as Michael Seemann calls it: a loss of control or Kontrollverlust. Data we never knew existed is finding paths that were not intended and reveals information that we would never have thought of on our own. Traditional institutions and concepts of freedom are threatened by this digital tailspin. But that doesn't mean we are lost. A new game emerges, where a different set of rules applies. To take part, we need to embrace a new way of thinking and a radical new ethics – we need to search for freedom in completely different places. While the Old Game depended upon top-down hierarchies and a trust in the protective power of state justice systems, the New Game asks you to let go of all these certainties. Strategies to play the game of digital tailspin rely on flexibility, openness, transparency and what is dubbed 'antifragility'.
Lees hier het gratis e-book of bestel en print exemplaar.
Marc Rotenberg, Julia Horwitz, Jeramie Scott (eds.): Privacy in the Modern Age: The Search for Solutions (New York, The New Press, 2015)
The threats to privacy are well known: the National Security Agency tracks our phone calls, Google records where we go online and how we set our thermostats, Facebook changes our privacy settings when it wishes, Target gets hacked and loses control of our credit card information, our medical records are available for sale to strangers, our children are fingerprinted and their every test score saved for posterity, and small robots patrol our schoolyards while drones may soon fill our skies.
The contributors to this anthology don't simply describe these problems or warn about the loss of privacy- they propose solutions. They look closely at business practices, public policy, and technology design and ask, "Should this continue? Is there a better approach?" They take seriously the dictum of Thomas Edison: "What one creates with his hand, he should control with his head." It's a new approach to the privacy debate, one that assumes privacy is worth protecting, that there are solutions to be found, and that the future is not yet known. This volume will be an essential reference for policy makers and researchers, journalists and scholars, and others looking for answers to one of the biggest challenges of our modern day. The premise is clear: there's a problem- let's find a solution.
+++++  2014  +++++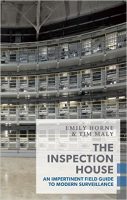 Tim Maly & Emily Horne: The Inspection House. An Impertinent Field Guide to Modern Surveillance (Coach House Books / reeks Exploded Views, 2014, 160 p.)
In 1787, Jeremy Bentham conceived of the panopticon, a ring of cells observed by a central watchtower, as a labor-saving device for those in authority. While Bentham's design was ostensibly for a prison, he believed that any number of places that require supervision — factories, poorhouses, hospitals, and schools — would benefit from such a design. The French philosopher Michel Foucault took Bentham at his word. In his groundbreaking 1975 study, Discipline and Punish, the panopticon became a metaphor to describe the creeping effects of personalized surveillance as a means for ever-finer mechanisms of control.
Forty years later, the available tools of scrutiny, supervision, and discipline are far more capable and insidious than Foucault dreamed, and yet less effective than Bentham hoped. Shopping malls, container ports, terrorist holding cells, and social networks all bristle with cameras, sensors, and trackers. But, crucially, they are also rife with resistance and prime opportunities for revolution. The Inspection House is a tour through several of these sites — from Guantánamo Bay to the Occupy Oakland camp and the authors' own mobile devices — providing a stark, vivid portrait of our contemporary surveillance state and its opponents.
Gabriella Coleman: Hacker, Hoaxer, Whistleblower, Spy: The Many Faces of Anonymous (Verso Books, 2014)
Volgens de flaptekst "the ultimate book on the worldwide movement of hackers, pranksters, and activists that operates under the non-name Anonymous" en deze keer heeft de flaptekst overschot van gelijk. Antropoloog Gabriella Coleman schreef een fascinerend boek over hackerscollectief Anonymous, wellicht wel de meest interessante politieke beweging van de afgelopen tien jaar. Coleman volgde de club vanaf het begin en slaagt erin de vele gezichten van Anonymous te laten zien. Het resultaat is een rijk portret en een spannend verhaal dat de beweging een gezicht geeft zonder aan het masker te tornen. Essential reading.
"Half a dozen years ago, anthropologist Gabriella Coleman set out to study the rise of this global phenomenon just as some of its members were turning to political protest and dangerous disruption (before Anonymous shot to fame as a key player in the battles over WikiLeaks, the Arab Spring, and Occupy Wall Street). She ended up becoming so closely connected to Anonymous that the tricky story of her inside-outside status as Anon confidante, interpreter, and erstwhile mouthpiece forms one of the themes of this witty and entirely engrossing book."
Recensie bij Vrij Nederland, de Correspondent, The Guardian.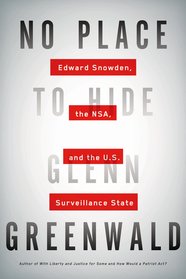 Glenn Greenwald: No Place To Hide. Edward Snowden, the NSA, and the U.S. Surveillance State (2014)
In dit boek verbindt Greenwald voor het eerst alle stukjes van de puzzel. Het boek begint met trip naar Hong Kong, waar hij voor het eerst Edward Snowden ontmoet. Maar Greenwald onderzoekt in zijn boek vooral de bredere implicaties van de surveillance waarover hij schreef in The Guardian. No Place To Hide bevat ook niet eerder verschenen documenten over het ongekende machtsmisbruik van de NSA.
Greenwald pakt ook de gevestigde media aan. Hij hekelt het fenomeen dat reportages die kritisch zijn voor de overheid, niet gepubliceerd worden en verwijt de media dat ze niet in staat zijn om de belangen van de gewone man te dienen. Tot slot vraagt hij zich af wat het voor de individuele en nationale politieke gezondheid betekent wanneer een overheid zo intensief de privélevens van burgers monitort, en laat hij zien welke maatregelen getroffen moeten worden om democratie in het digitale tijdperk te waarborgen.
No Place To Hide is in het Nederlands verschenen als De Afluisterstaat.
Bruce Schneier: Carry On. Sound advice from Schneier on Security (John Wiley & Sons Publ., 2014)
Het meest recente boek van gerenommeerd veiligheidsexpert Bruce Schneier bevat meer dan 160 commentaren en observaties over uiteenlopende onderwerpen als de aanslag op de marathon van Boston, de alomtegenwoordige NSA surveillance, Chinese cyberaanvallen, privacy in de cloud, de psychologie en de economie van surveillance, het veiligheidstheater op luchthavens, enzoverder. Schneier legt uit, verklaart, ontmaskert, trekt lessen en geeft aanwijzingen voor zowel veiligheidsexperts als voor u en ik.
Kees Boersma, Rosamunde Van Brakel, Chiara Fonio and Peter Wagennaar: Histories of State Surveillance in Europe and Beyond, Routledge, London/New York, 2014.
Does the development of new technology cause an increase in the level of surveillance used by central government? Is the growth in surveillance merely a reaction to terrorism, or a solution to crime control? Are there more structural roots for the increase in surveillance?
This book attempts to find some answers to these questions by examining how governments have increased their use of surveillance technology. Focusing on a range of countries in Europe and beyond, this book demonstrates how government penetration into private citizens' lives was developing years before the 'war on terrorism.' It also aims to answer the question of whether central government actually has penetrated ever deeper into the lives of private citizens in various countries inside and outside of Europe, and whether citizens are protected against it, or have fought back.
The main focus of the volume is on how surveillance has shaped the relationship between the citizen and the State. The contributors and editors of the volume look into the question of how central government came to intrude on citizens' private lives from two perspectives: identification card systems and surveillance in post-authoritarian societies. Their aim is to present the heterogeneity of the European historical surveillance past in the hope that this might shed light on current trends.
Je kan het boek integraal lezen bij Cryptome (pdf)
+++++  2013  +++++

+++++  2012  +++++

Andy Greenberg: This machine kills secrets. How WikiLeakers, Cypherpunks, and Hacktivists Aim to Free the World's Information (2012)
Marcello Di Cintio: Walls: Travels Along the Barricades (Goose Lane Ed., 2012)
J.J. Luna: How to Be Invisible. Protect Your Home, Your Children, Your Assets, and Your Life (Thomas Dunne Books, 2012). How do you keep yourself under the radar in an information age where anyone, anywhere can track you down? This book addresses this question and lifts you from the depression other books on privacy might give you. Meticulously researched and quite entertaining at times, How to Be Invisible gives practical advice on how to stay out of sight in the real world, digitally or otherwise. Some even call this book the bible of the privacy-minded.
Alexandra Hall: Border Watch. Cultures of Immigration, Detention and Control (Pluto Press, 2012)
Jenna M. Loyd, Matt Mitchelson, Andrew Burridge: Beyond Walls and Cages. Prisons, Borders, and Global Crisis
Fredrika Björklund, Ola Svenonius (ed.) Video Surveillance and Social Control in a Comparative Perspective (2012)
Gudrun Vande Walle, Evelien Van den Herrewegen, Nils Zurawski: Crime, Security and Surveillance. Effects for the Surveillant and the Surveilled (Eleven, 2012)
Rebecca MacKinnon: Consent of the Networked (2012)
+++++  2011  +++++

Robin Tudge: The No-Nonsense Guide to Global Surveillance (New Internationalist, 2011)
"In the world of CCTV, email and DNA, this book shows the extent to which Big Brother is watching us all."
Lees het voorwoord (pdf) en het eerste hoofdstuk A day in the life … 'Big Brother' today (pdf).
Daniel J. Solove: Nothing to hide. The False Tradeoff between Privacy and Security (2011)
Lees: introduction (pdf) – excerpt – essay (pdf)
Colin J. Bennett, Kevin Haggerty (Eds.): Security Games. Surveillance and Control at Mega-Events (2011)
Security Games addresses the impact of mega-events – such as the Olympic Games and the World Cup – on wider practices of security and surveillance. "Mega-Events" pose peculiar and extensive security challenges. The overwhelming imperative is that "nothing should go wrong." There are, however, an almost infinite number of things that can "go wrong"; producing the perceived need for pre-emptive risk assessments, and an expanding range of security measures, including extensive forms and levels of surveillance. These measures are delivered by a "security/industrial complex" consisting of powerful transnational corporate, governmental and military actors, eager to showcase the latest technologies and prove that they can deliver "spectacular levels of security".
Mega-events have thus become occasions for experiments in monitoring people and places. And, as such, they have become important moments in the development and dispersal of surveillance, as the infrastructure established for mega-events are often marketed as security solutions for the more routine monitoring of people and place. Mega-events, then, now serve as focal points for the proliferation of security and surveillance. They are microcosms of larger trends and processes, through which – as the contributors to this volume demonstrate – we can observe the complex ways that security and surveillance are now implicated in unique confluences of technology, institutional motivations, and public-private security arrangements. As the exceptional conditions of the mega-event become the norm, Security Games: Surveillance and Control at Mega-Events therefore provides the glimpse of a possible future that is more intensively and extensively monitored.
+++++  2010  +++++

+++++  2009  +++++

Helen Nissenbaum: Privacy in Context. Technology, Policy, and the Integrity of Social Life (Stanford Law Books, 2009)
David Lyon: Identifying Citizens. ID Cards as Surveillance (2009)
James Bamford: The Shadow Factory. The NSA from 9/11 to the Eavesdropping on America (Random House 2009)
James Bamford has been the preeminent expert on the National Security Agency since his reporting revealed the agency's existence in the 1980s. Now Bamford describes the transformation of the NSA since 9/11, as the agency increasingly turns its high-tech ears on the American public. "The Shadow Factory" reconstructs how the NSA missed a chance to thwart the 9/11 hijackers and details how this mistake has led to a heightening of domestic surveillance. In disturbing detail, Bamford describes exactly how every American's data is being mined and what is being done with it. Any reader who thinks America's liberties are being protected by Congress will be shocked and appalled at what is revealed here.
Review bij New York Times
Interview bij Democracy Now!
+++++  2008  +++++

+++++  2006  +++++

+++++  2005  +++++

+++++  2003  +++++
+++++  2002  +++++
Thomas Y. Levin, Ursula Frohne, Peter Weibel (eds.): CTRL [SPACE]: Rhetorics of Surveillance from Bentham to Big Brother(MIT Press, 2002, 655 pp.)
This book investigates the state of panoptic art at a time when issues of security and civil liberties are on many people's minds. Traditional imaging and tracking systems have given way to infinitely more powerful "dataveillance" technologies, as an evolving arsenal of surrogate eyes and ears in our society shifts its focus from military to domestic space. Taking as its point of departure an architectural drawing by Jeremy Bentham that became the model for an entire social regime, CTRL [SPACE] looks at the shifting relationships between design and power, imaging and oppression, from the eighteenth to the twenty-first centuries.
From the photographs taken with hidden cameras by Walker Evans and Paul Strand in the early twentieth century to the appropriation of military satellite technology by Marko Peljhan a hundred years later, the works of a wide range of artists have explored the dynamics of watching and being watched. The artists whose panoptical preoccupations are featured include, among others, Sophie Calle, Diller + Scofidio, Dan Graham, Pierre Huyghe, Michael Klier, Rem Koolhaas, Bruce Nauman, Yoko Ono, Thomas Ruff, Julia Scher, Andy Warhol, and Peter Weibel. This book, along with the exhibition it accompanies, is the first state-of-the-art survey of panopticism—in digital culture, architecture, television, video, cinema, painting, photography, conceptual art, installation work, robotics, and satellite imaging.
– recensie bij caa.reviews
+++++  2001  +++++

John Gilliom: Overseers of the Poor. Surveillance, Resistance, and the Limits of Privacy (University of Chicago Press, 2001)
James Bamford: Body of Secrets. Anatomy of the Ultra-Secret National Security Agency (DoubleDay, 2001)
Review van Bruce Schneier bij Salon.com