Adam Tanner: Our Bodies, Our Data (2017)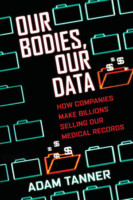 Hidden to consumers, patient medical data has become a multibillion-dollar worldwide trade industry between our health-care providers, drug companies, and a complex web of middlemen. This great medical-data bazaar sells copies of the prescription you recently filled, your hospital records, insurance claims, blood-test results, and more, stripped of your name but possibly with identifiers such as year of birth, gender, and doctor. As computing grows ever more sophisticated, patient dossiers become increasingly vulnerable to reidentification and the possibility of being targeted by identity thieves or hackers.
Paradoxically, in the evolution of medical data, the instinct for profit has outstripped patient needs. This book tells the human, behind-the-scenes story of how such a system evolved internationally. This is both a story about medicine and medical practice, and about big business and maximizing profits, and the places these meet, places most patients would like to believe are off-limits. "Our Bodies, Our Data" seeks to spark debate on how we can best balance the promise big data offers to advance medicine and improve lives while preserving the rights and interests of every patient. We, the public, deserve a say in this discussion. After all, it's our data.
Adam Tanner: Our Bodies, Our Data. How Companies Make Billions Selling Our Medical Records (Beacon Press, 2017)