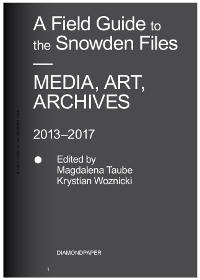 A Field Guide to the Snowden Files. Media, Arts, Archives 2013-2017 – Ed. Magdalena Taube and Krystian Woznicki (Diamondpaper 2017)
This is the first book to critically engage with artists responding to the NSA-files leaked by whistleblower Edward Snowden. Considering the most relevant contexts in which the files have 'surfaced' (including media and archives), it reflects on how artists are deploying the files as raw material. Their different approaches share the common goal of rendering the documents accessible – to both present and future audiences. Reaching out to the general public, they have also tasked themselves with reflecting on the complex political, social and technological realities that the Snowden documents have helped to uncover. Foregrounded are artists who test the files as material and, by creating works, transform them into commons.
The book has been conceived in the context of Signals, a project by Berliner Gazette.